One By One: A Single Pixel Adventure
DESCRIPTION
One By One is a TEXT ADVENTURE with only ONE PIXEL. Your goal is to SEEK THE CROWN. Listen for audio cues and type simple commands to interact. HEADPHONES are highly recommended. The downloadable version features enhanced audio.
TIPS
Commands are typically one or two words. Examples: GET KEY or GIVE SWORD.
To navigate, type NORTH, SOUTH, EAST, or WEST. You can also type OPEN DOOR if one exists.
Typing should make the screen flash. If not, click inside the window.
You do not need to TALK, LOOK, or ATTACK in this game.
To get started, type LIGHT FIRE then GET KEY.
SPOILERS BELOW!
Scroll down for a map and walkthrough if you get stuck.
MAP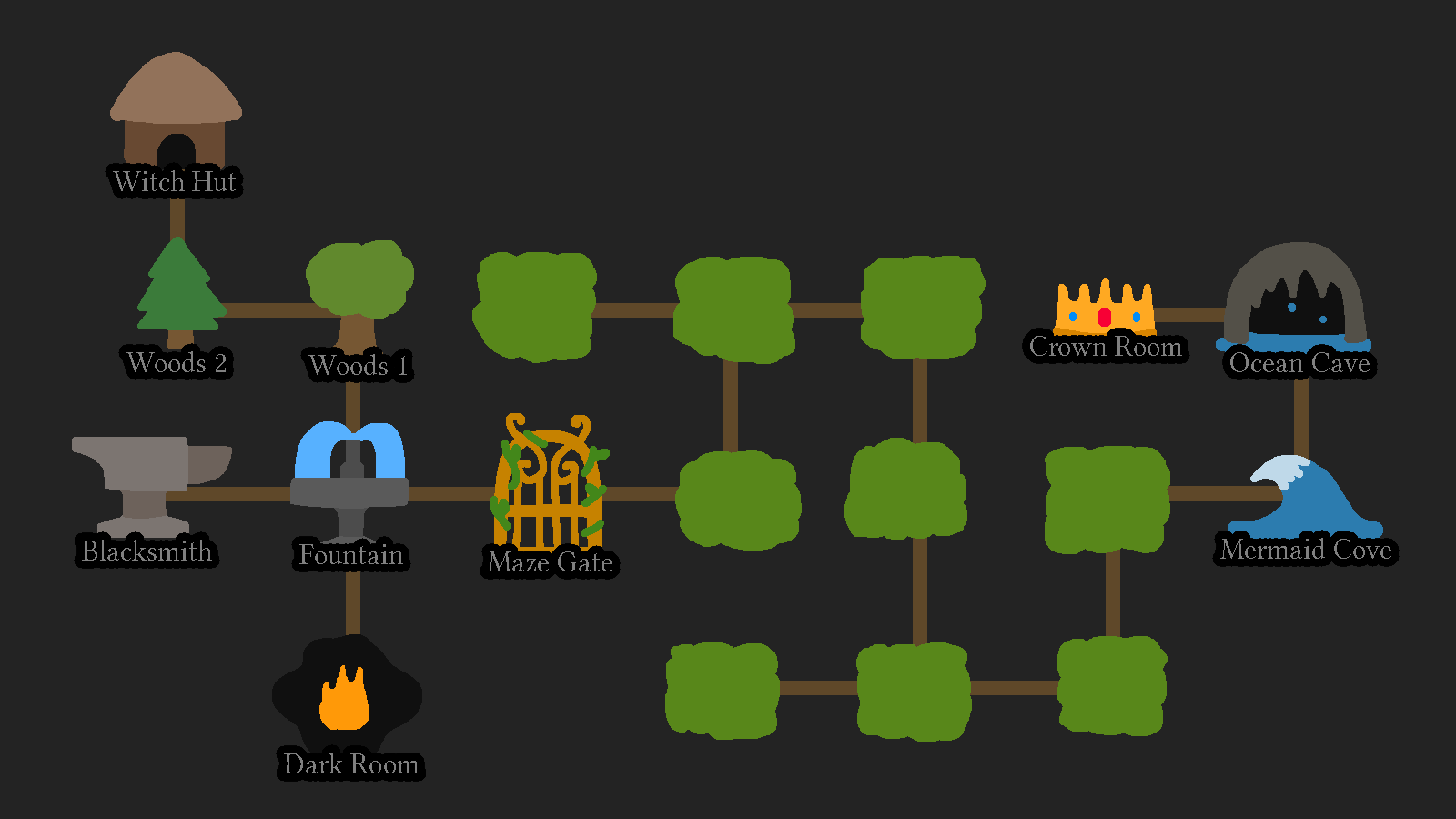 WALKTHROUGH
Dark Room
You drop a bundle of wood and strike a match.
LIGHT a FIRE and notice the shining object.
Try moving NORTH and notice the door is locked.
GET the shining KEY.
UNLOCK the DOOR to proceed.
Fountain
Notice that you can DRINK from the FOUNTAIN.
Nothing else can be done here yet.
Go NORTH to the woods.

Woods 1
Listen to the sound of a crow who has stolen a bag of coins.
CLIMB UP the TREE.
TAKE the COINS, scaring the birds away.
CLIMB DOWN the TREE.
Go WEST to the deeper woods.
Woods 2
There's nothing to do with the owl here...or is there?
Go NORTH to the hut.
Witch Hut
Some of this brewing equipment could be useful.
TAKE the BOTTLE.
Head SOUTH, EAST, then SOUTH back to the fountain.
Fountain
FILL the BOTTLE with fresh water.
Go WEST.

Blacksmith
The blacksmith is making something. He wants payment.
BUY the SWORD with the coins from earlier.
Go EAST then EAST again.
Maze Entrance
A ogre guards the gate. He sounds very thirsty.
GIVE him the refreshing WATER.
He will open the way for you.
Go EAST through the gate.

Maze
Follow the sound of singing.
Go NORTH, EAST, SOUTH, SOUTH, EAST, NORTH, and finally EAST.
Mermaid Cove
A mermaid laughs from atop a rock. She wants something.
GIVE her the SWORD.
She will sing an enchanted tune which reveals the cave to the north.
ENTER the CAVE.
Ocean Cave
You are near the end.
Go WEST.
Crown Room
You've done it! WEAR the CROWN.
Enjoy the ending.
AUDIO CREDITS
Voice of Mermaid: drotzruhn - Freesound.org

Ending music: Come Play With Me - Kevin McLeod

Sound effects by Sound-Ideas.com
Comments
Log in with itch.io to leave a comment.
Props for creativity :) I'm a huge fan of incorporating audio into games in creative ways.
Thank you for this experience! I got stuck because of the crow, you made me use pen and paper to keep track of the map which gave me good ol' metroid vibes.
I added your game to my Top 10 games from LowRezJam 2019 collection 😊